Spotlight
This page shines the light on Roughriders making headlines, setting records, or going above and beyond.
95 Grad Matt Bobo Retires After Lengthy Professional Career!
The last 13 years, Matt Bobo has been traveling the country as a professional soccer player. After graduation, Matt attended the University of Wisconsin-Green Bay from 1995-96 before transferring to Eastern Illinois University, where he was a first-team all-Midwest and team MVP as a senior. His professional career included an all-star year with the Chicago Fire Reserves in 2001, followed by 10 years in the USL A-League (Milwaukee Rampage, Richmond Kickers, Atlanta Silverbacks, Charleston Battery, Carolina Railhawks). Matt currently is in his first season as an assistant coach at Baylor University. Matt is married to Krista Bobo who played with the WUSA's Washington Freedom, New York Power and W-League's Atlanta Silverbacks.
Matt was part of the Roosevelt teams that had a run of 64 games without a loss. The streak was broke in substate play in a marathon overtime match that last nearly 160 minutes. He was 1st Team All Conference his senior year and Honorable Mention his junior year.
Defender Matt Bobo pushes up for the corner and nets a header!
07 Grad Sam Lepley Captains the Naval Academy Team
An appointment to attend the prestigious Naval Academy is one of the more coveted honors a person could hope to achieve. Naval Academy graduates fill our history books and have shaped our nation. As the video shows, Sam has worked hard to become a leader among leaders. Click here to see his more about his Naval playing career.
Sam was a 4 year varsity letter winner during his time at Roosevelt. A team captain, he anchored the team from his center midfield position. He was Honorable Mention his sophomore year before earning 1st Team honors his junior and senior years.
03 Grad Alex Munns is Yale's Best Male Athlete of the Fall Sports
After an impressive career as a Roughrider, Alex Munns headed to the Ivy League to continue his soccer career. He was named the Best Male Athlete of all the fall sports his junior year (2005). That year he was also a unanimous 1st Team pick, the 2nd leading scorer in the league, a team conference title, and bid to the NCAA tournament. He finished his career with 23 goals and 3 All Conference team selections. He also played for PDL Menace in their 2005 National Championship year.
At Roosevelt Alex was a complete player. A prolific scorer, he had a flair for finishing in the air. He was 2nd Team All Conference his first two years followed by 1st team All Conference his last two years. He was also a 2 or 3* time All State Player. In Roosevelt's 3rd Place State finish in 2003, he was named Captain of the All Tournament team, a position usually reserved for the winning team.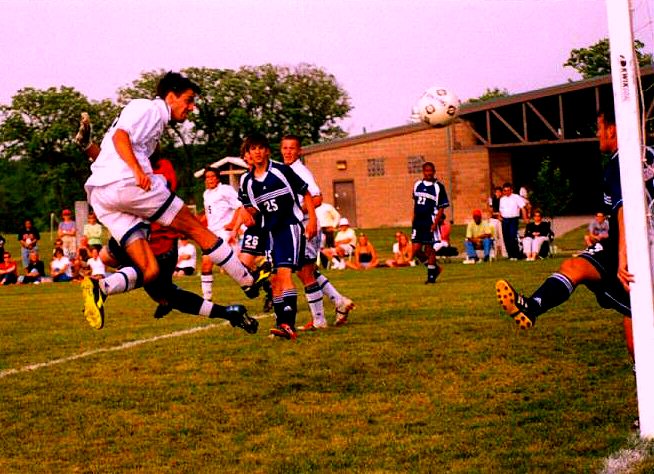 The Modersohn Brothers!
94 Grad Seth Modersohn
Seth was part of senior class that never lost a varsity game while playing for Roosevelt. He was 1st Team All Conference as a junior and senior. He attended Miami of Ohio before transferring back to Drake. At Drake, he was an MVP, a captain, and earned Honorable Mention and 1st Team All Conference his Senior year in 1997. Seth moved on to play in the PDL for the Menace from 1995 to 2002. He is in the Menace record books and was named a PDL All Star in 1999.
97 Grad Mark Modersohn
Mark's play in goal helped lead Roosevelt to two 2nd place finishes at the state tournament. He was 1st Team All Conference as a junior and senior, and a 2nd Teamer his sophomore year. He then moved on to SW Missouri State where he started all four years. He earned three MVC 1st Team All Conference and one Honorable Mention. He still holds every major goalkeeping record at the school.
Paula Modersohn Scholarship
In 1999, soccer supporter and "Soccer Mom", Paula Modersohn, passed away after a courageous battle with cancer. In her memory, thousands of dollars has been given away over the years to a graduating Roosevelt boys and girls soccer player.